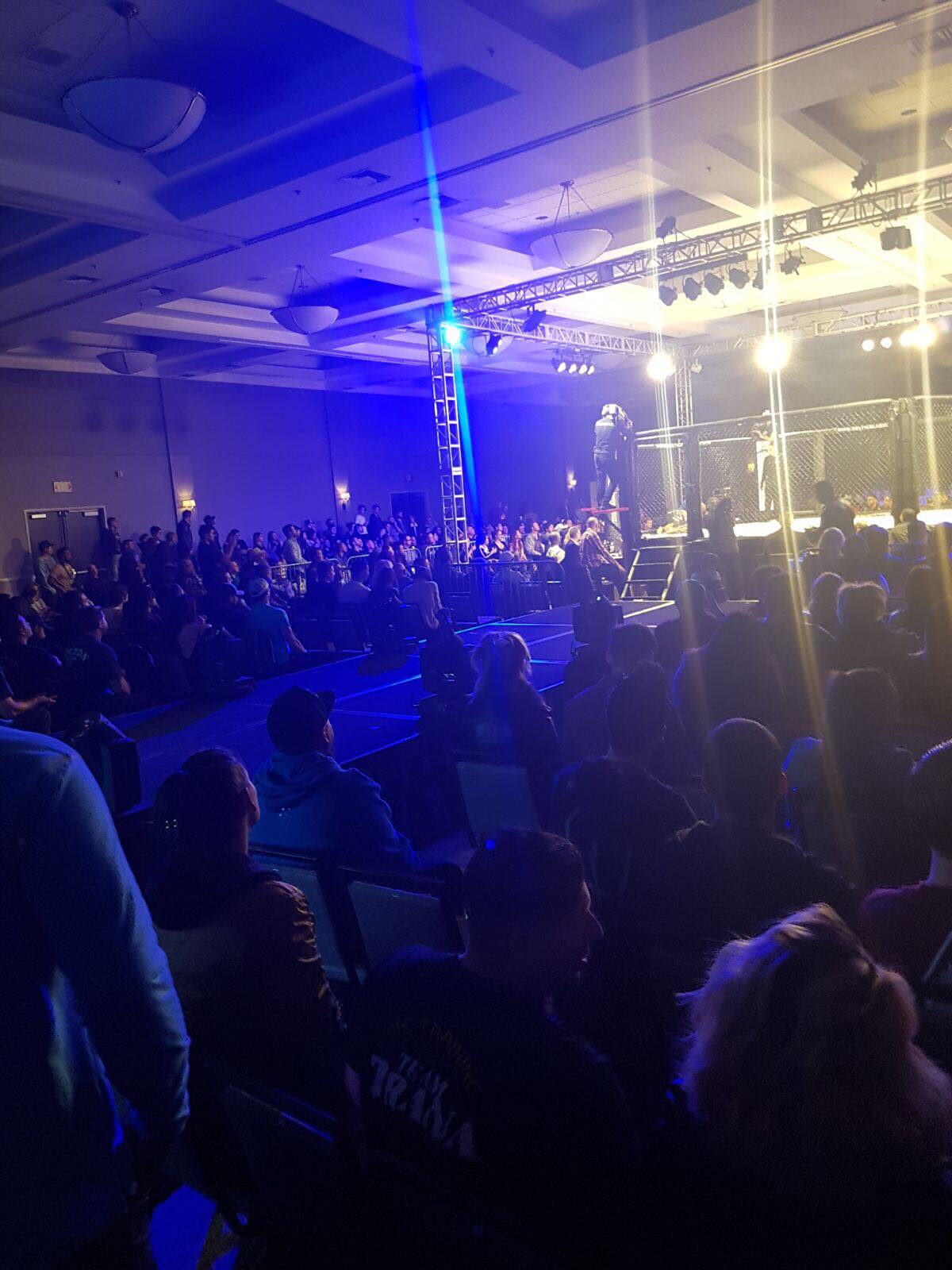 It certainly didn't take very long for Celtic Gladiator 17 to make a huge impression on the Southern California fight fans as Sochiro Sasaki needed only :17 seconds to bring the crow to their feet with a huge knockout victory over Samuel Tucker. Tucker came out aggressive looking to establish his range with along front kick, but Sasaki defended well and kept his right hand cocked by his ear, before uncorking a hellish counter that dropped tucker instantly forcing the referee to stop the fight.
Winner Sochiro Sasaki via Knockout :17 Rd 1.

The second bout of the evening amateur Arturo Guevara was able to outpoint Saekson's Muay Thai's Luke Duran, in a back and forth battle that relied on the judges scoring to decide the winner. In the end, the judges thought Guevara did enough to secure the victory, cruising on all three judges scorecards to a unanimous decision victory.
Winner Arturo Guevara via unanimous decision.
Taylor Alfaro and Mark Alvidrez opened the pro portion of the card, and it became apparent pretty quickly that this was going to be a barn burner. Alvidrez started out using his jab, looking to establish his range, but Alfaro continued to stalk his taller opponent, looking for an entrance. After a close first round, Alfaro looked to bring the fight to the mat. Once their, he established position and quickly worked for a finish. The opportunity came at 4:21 seconds of the second round, and Alfaro seized his chance cinching in the fight ending rear naked choke.
Winner Taylor Alfaro via submission (Rear Naked Choke) 4:21 Rd 1.
It took a little time for Eric Steans to find his groove, but once he did his opponent Christian Bizarretty had his hands full. Steans showcasing his well rounded game plan, controlled his opponent on his feet, before taking control on the mat as well. Continuing his dominance, Steans found top position late in the second round and inspired the finish with some heavy ground and pound, earning the TKO victory at 3:48 of the second round.
Winner Eric Steans via TKO 3:48 Rd 2.
Making his pro debut after a long layoff as an undefeated amateur, lifelong martial artists and Hollywood Actor Chris Bruno decided it was time for his first pro fight at the tender age of 51. Unfortunately for Chris, his opponent Mark Matsumoto had his own story book finish in mind. Matsumoto took control at the opening bell, utilizing his size to smother the early attacks of Bruno. Closing the distance, Matsumoto was able to instigate a clinch, before scoring with the takedown. Once the fight hit the mat, Matsumoto stayed heavy securing position before unloading an unanswered barrage that forced the referee to intervene at 4:08 of the very first round.
Winner Mark Matsumoto via TKO 4:08 Rd 1.
Lightweights Brandon Van Cleave and Donte Stubbs followed up with what many consider the best fight of the night. Early on, Van Cleave was able to keep his shorter opponent at the end of his jab, frustrating Stubbs. Van Cleave appeared to be cruising with a two round lead before fading late in the third round. Exhausted but still game, Van Cleave some how was able to get Stubbs to the mat, however 'The Savage' quickly got back to his feet. Once standing, Stubbs uncorked a vicious left hand that clipped Van Cleave leaving him against the fence. Sensing the finish Stubbs swarmed with a combination that dropped Van Cleave and forced referee Mike Beltran to step in to stop the fight, just as Van Cleave collapsed in the corner.
Winner Donte Stubbs via TKO 4:35 Rd 3.
The comeback trend continued in the next fight as Jonathan Martin stunned the crowd with a lightning fast KO over Julian Baez. Baez appeared to clearly be in control, winning the first round with a versatile attack that featured some nasty counter punching. In the second round Baez continued his charge before walking into a furious combination from Martin that immediately dropped Baez like a sack of potatoes. Sensing the victory, Martin swarmed with some nasty ground and pound that inspired referee Mike Bell to stop the fight at 1:29 of the second round.
Winner Jonathan Martin via TKO 1:29 Rd 2.
CXF lightweight standout Brian Del Rosario continued his winning ways, taking out Bellator MMA veteran Anthony Taylor with only one second remaining in the very first round. After a long feeling out process Del Rosario quickly established a lead utilizing his superior hand speed and vicious body kicks. After tasting the power of Del Rosario's hands Taylor decided it may be a good idea to bring the fight to the mat. However, Del Rosario was able to counter with a heavy sprawl, and transitioned into top position. From there Del Rosario began to unleash on Taylor with vicious elbows, forcing the stoppage at 4:59 of the very first round.
Winner Brian Del Rosario via TKO 4:59 Rd 1.
Professional drift racer and lifelong martial artist Dave Roberts traded in his racing gloves for a pair of 4oz Celtic Gladiator mma gloves, and didn't waste any time putting them to use against his opponent Jose Marroquin. Roberts came out very aggressive looking to dominate Marroquin, until a right hand from Jose put Roberts on notice. A back and forth tango continued for two minutes before Roberts captured the checkered flag in the form of a guillotine choke, forcing Marroquin to tap at 2:09 of the first round.
Winner Dave Roberts via submission (Guillotine Choke) 2:09 Rd 1.
Making his return to the cage after almost 2 years off due to injuries fan favorite Eddie Jackson was looking to shake off the ring rust early by overwhelming Daniel McWilliams with power shots, however the wily grappling veteran was stifle that power by bringing Jackson to the ground with a takedown. Once on the mat, McWilliams methodically worked for the back, and was able to cinch a rear naked choke, that left Jackson asleep. The official end came at 1:56 of the very first round.
Winner Daniel McWilliams via submission (Rear Naked Choke) 1:56 Rd1.
In the co main event Daniel Hernandez came out looking to trade hands with Jonathan Rivera. However, Rivera split open Hernandez with a combination that quickly reminded Hernandez of his wrestling pedigree. Utilizing his excellent take down defense Rivera was able to stuff the shot, and immediately looked to take the back of Hernandez off the sprawl. Once the back position was secure, the finish came quickly as Rivera forced Hernandez to tap with a choke at 1:23 of the first round.
Winner Jonathan Rivera via submission (Rear Naked Choke) 1:23 Rd 1.
The main event of the evening featured a back and forth war between featherweights Derion Chapman and Jacob Rosales. Making his second promotional appearance Rosales came out in the first round with a ton of energy, sitting down on every punch Rosales was looking to check his opponents chin early. Chapman quickly began circling looking to counter the aggressive Rosales. Late in the first round, a combination from Chapman rocked Rosales, however Rosales was able to withstand the onslaught and the dance continued. In the second round Rosales was able to find his spots, but again the counter punching of Chapman appeared to take control. Rosales surged towards the end of the third round, as Chapman began to fade, however by then the dividends were already in the bank, and Chapman cruised to a unanimous decision victory.
Winner Derion Chapman via unanimous decision